PROTECTIVE STYLES | THE SUMMER QUARANTINE REGIMEN
•
Posted on July 15 2020
There's no question that protective hairstyles are the go-to savior during quarantine and the summer months. Styles such as braids, twists, wigs, and sew-ins allow our natural strands to be tucked away for weeks at a time - protecting them from extreme weather, humidity, and other summer conditions that can cause havoc on our hair.
But just because your natural hair is out-of-sight, doesn't mean it should be out-of-mind.Here's how-to cleanse, condition, prep, style and maintain your tresses when wearing a protective style.
Step 1: Pre-Treat Scalp & Cleanse
When wearing a protective style be sure to cleanse your scalp and hair every 7-10 days (or as often as needed if you actively swim in chlorine or partake in any summer activity that may require you to shampoo more frequently).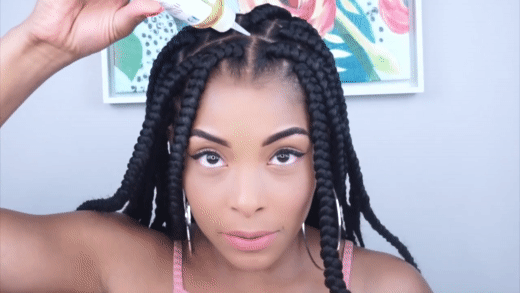 Start with a pre-shampoo treatment to detox your scalp of excess oils, dirt, and product buildup. Professionals prefer the Design Essentials Peppermint & Aloe Soothing Tonic.to combat dandruff and alleviate itching, but their clients take home the Detoxifying Tonic from the Design Essentials Scalp and Skin Care Collection to keep the scalp clean prior to and between shampooing.
Apply either product directly to the scalp and gently massage with your finger. Allow to sit for 1-3 minutes. Then rinse thoroughly before cleansing.
Next, shampoo scalp and hair with Peppermint & Aloe Therapeutics Anti-Itch Shampoo or Platinum Deep Moisturizing Shampoo. You can't go wrong with either, as both shampoos restore moisture balance by deeply cleansing without stripping the hair or scalp of its natural oils.
Step 2: Condition & Prep
If your hair is successfully tucked away in braids, twists, faux locs, or some variation of a natural protective style, we highly suggest trading in a traditional cream-based conditioner for a lightweight leave-in spray conditioner. This way you can liberally nourish your natural hair without worrying about disrupting your protective style.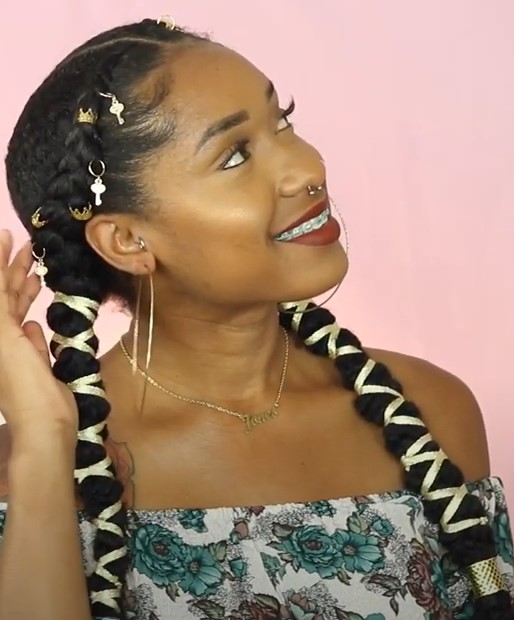 We suggest using Bamboo Silk HCO Leave-In Conditioner. It easily sprays into the hair shaft to strengthen and replenish the hair with Hydrogen, Carbon, and Oxygen (hence the name, HCO). This unique formula will help smooth the cuticle, leaving your hair and protective style feeling soft and manageable while eliminating frizz, and providing excellent shine.
Follow with Scalp & Skin Care Moisturizing Treatment immediately after cleansing to moisturize your scalp- promoting healthy scalp care and hair growth.
DE Pro Tip: Add a few drops of Moisturizing Oil Treatment to your palms, rub together, then run along the length of your braids, twists, or locs to seal in additional moisture!
Step 3: Style & Maintain
Protective styles can last anywhere between a few weeks to several months if properly protected against environmental conditions and maintained with the correct hair care regimen. Just follow these simple tips:
Extend the life of your protective style with daily use of

 

Coconut & Monoi Coconut Water Curl Refresher. This lightweight curl quencher hydrates, fights frizz, and can be used on wet or dry hair.
For scalp protection, get your hands on the

 

Scalp & Skin Care Vitamin Drops, formulated with Vitamin E, to help nourish and moisturize while shielding from ultra violet rays and free radicals.
Protect your mane from extreme heat and humidity by keeping it covered with a

 

trendy head wrap. Also be sure to wear a silk or

 

satin bonnet

 

at night to protect your hair and edges from rubbing, which can cause breakage.
Remember, cleanse, condition, prep, style, & maintain! The 5-steps that will keep your natural hair flourishing this summer underneath your protective hairstyle of choice.
PROTECTIVE STYLES |...

Styles such as braids, twists, wigs, and sew-ins allow our natural strands to be tucked away for weeks at a time - protecting them from extreme wea...

Read More

Natural Hair Salon ...

The best reason to go to a natural hair salon is to have an expert analyze and maintain the health of your natural hair. 

Read More

Natural Hair Salon:...

Natural Hair Salon: A Chop and Color Experience

Read More